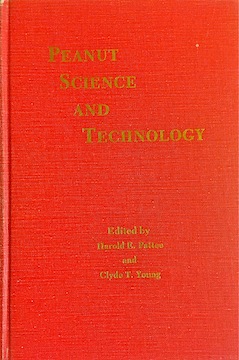 Table of Contents
Peanut Science and Technology, published in 1982, may be downloaded by chapter.
Cover, Title Page, Preface, Contributors and Table of Contents
Harold E. Pattee and Clyde T. Young
Chapter 1: Origin and Early History of the Peanut
Ray O. Hammons
Chapter 2: Speciation and Cytogenetics in Arachis
Joseph Smartt and H. Thomas Stalker

Chapter 3: Genetics of Arachis Hypogea L
Johnny C. Wynne and Terry A. Coffelt
Chapter 4: Breeding of the Cultivated Peanut
Allen J. Norden, Olin D. Smith and Daniel W. Gorbet
Chapter 5: Cultural Practices
Ronald J. Henning, Allen H. Allison and Leland D. Tripp
Chapter 6: Liming, Fertilization, and Mineral Nutrition
Fred R. Cox, Fred Adams, and Billy B. Tucker
Chapter 7: Irrigation, Water Use, and Water Relations
Kenneth J. Boote, James R. Stansell, A. Michael Schubert, and John F. Stone
Chapter 8: Weeds and Their Control in Peanuts
Gale A. Buchanan, Don S. Murray, and Ellis W. Hauser
Chapter 9: Management of Preharvest Insects
James W. Smith, Jr. and Carl S. Barfield
Chapter 10: Peanut Plant Diseases
D. Morris Porter, Donald H. Smith, and Rodrigo Rodriguez-Kabana
Chapter 11: Growth Physiology
Darold L. Ketring, R. Harold Brown, Gene A. Sullivan, and Becky B. Johnson
Chapter 12: Harvesting, Curing, and Energy Utilization
James H. Young, Nat K. Person, Jr., James O. Donald, and William D. Mayfield
Chapter 13: Aflatoxins and Other Mycotoxins in Peanuts
Urban L. Diener, Robert E. Pettit, and Richard J. Cole
Chapter 14: Insect Control in Postharvest Peanuts
Leonard M. Redlinger and Robert Davis
Chapter 15: Grading, Cleaning, Storage, Shelling, and Marketing of Peanuts in the United States
James I. Davidson, Jr., Thomas B. Whitaker, and James W. Dickens
Chapter 16: Postharvest Physiology and Maturity
Timothy H. Sanders, A. Michael Schubert, and Harold E. Pattee
Chapter 17: Composition, Nutrition, and Flavor of Peanuts
Essam H. Ahmed and Clyde T. Young
Chapter 18: Potential Uses of Peanuts and Peanut Components
Kay H. McWatters and John P. Cherry
Chapter 19: Peanut Marketing
Don W. Sands
Chapter 20: A Look to the Future
Harold E. Pattee and Clyde T. Young
Index
Coyt T. Wilson and William V. Campbell
*APRES Copyright Statement:
Peanut Science and Technology and all content on this website content is copyright of APRES – © 2015. All rights reserved.
Any redistribution or reproduction of part or all of the contents in any form is prohibited other than the following:
you may print or download for your personal and non-commercial use only

you may copy the content to individual third parties for their personal use, but must acknowledge the book and website as the source of the material
You may not, except with our express written permission, distribute or commercially exploit the content. Nor may you transmit it or store it in any other website or other form of electronic retrieval system.