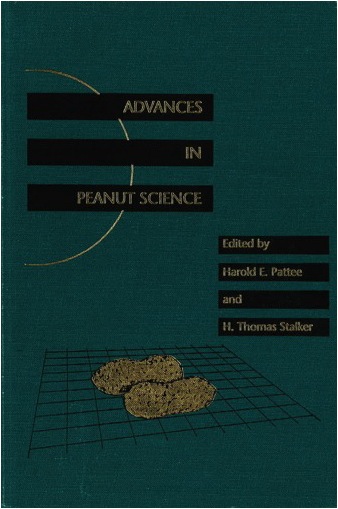 Published: 1995
Library of Congress Card Catalog Number: 95-083117
# of Pages: 614
Editors: Harold E. Pattee and H. Thomas Stalker
Price: $50 + shipping/handling
Advances in Peanut Science was published by the American Peanut Research and Education Society in 1995 as an update of a previously published volume Peanut Science and Technology in 1982. Scientific advancements in many areas had occurred during the 1980s and early 1990s, including the initiation of biotechnology methods; biological control methods for weeds, pathogens and insects; expert system models for production practices and pathogen control; and the computer became an essential tool in research and throughout the industry.
The book contains 17 chapters written by leading experts on peanut reproductive development; germplasm resources and breeding; insect, disease and weed management; pesticides and soil fertility; biological nitrogen fixation; modelling and cultural practices; mycotoxins and their elimination; peanut processing, flavor characteristics, and marketing. The topics address subjects pertinent to a broad spectrum of the peanut industry and serve as a resource for researchers, members of the peanut industry, and students of peanut development through production and marketing.
Advances in Peanut Science (Hardback) are available for purchase at $50/copy (plus shipping and handling) or download the book for free (see copyright statement) by chapter.
To Purchase:
Contact the APRES offices to receive an invoice. We accept checks drawn on a U.S. bank, credit cards, and PayPal.
To Download:
View the Table of Contents, and click on your chapter(s) of choice to view and download.
APRES Copyright Statement:
Advance in Peanut Science, this website and its content are copyright of APRES – © 2015. All rights reserved.
Any redistribution or reproduction of part or all of the contents in any form is prohibited other than the following:
you may print or download for your personal and non-commercial use only

you may copy the content to individual third parties for their personal use, but must acknowledge the website as the source of the material
You may not, except with our express written permission, distribute or commercially exploit the content. Nor may you transmit it or store it in any other website or other form of electronic retrieval system.