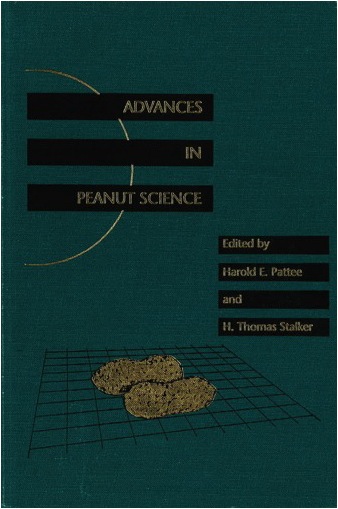 Advances in Peanut Science
Table of Contents
Advances in Peanut Science, published in 1995, may be downloaded by chapter.*
Title Page, Preface, Contributors, and Table of Contents

Chapter 1: The Peanut-Reproductive Development to Plant Maturity
J.Phillip Moss and V. Ramanatha Rao
Chapter 2: Germplasm Resources in Arachis
H. Thomas Stalker and Charles E. Simpson
Chapter 3: Recent Methodologies for Germplasm Enhancement and Breeding
David A. Knauft and Peggy Ozias-Akins
Chapter 4: Biological and Biotechnical Advances for Insect Management in Peanut
Robert E. Lynch and Timothy P. Mack

Chapter 5: Biological and Biotechnological Control Advances in Arachis Diseases
John L. Sherwood, Marvin K. Beute, Don W. Dickson, Vernon J.Elliott, Richard S. Nelson, Charles H. Opperman, and Barbara B. Shew
Chapter 6: The Biology and Management of Weeds in Peanut (Arachis hypogaea)
John W. Wilcut, Alan C. York, W. James Grichar and Glenn R. Wehtje
Chapter 7: Pesticide Behavior in Soils and Groundwater Protection in Peanut Management Systems
Ralph L. Warren, Jerome B. Weber, and Leon E. Danielson
Chapter 8: Biological Nitrogen Fixation in Peanuts
Gerald H. Elkan
Chapter 9: Physiology and Modelling–Predicting the "Unpredictable Legume"
Jonathan H. Williams and Kenneth J. Boote
Chapter 10: Peanut Cultural Practices
J. Ronald Sholar, R. Walton Mozingo, and John P. Beasley, Jr.

Chapter 11: Soil Fertility and Plant Nutrition
Gary J. Gaseho and Jessica G. Davis
Chapter 12: Applications of Expert Systems in Peanut Production
James I. Davidson, Jr., Marshall C. Lamb, Christopher L. Butts, E. Jay Williams , and Marvin Singletary

Chapter 13: Advances in Mycotoxin Elimination and Resistance
Richard J. Cole, Joe W. Dorner, and C. Corley Holbrook
Chapter 14: Sampling Methods to Measure Aflatoxin and Grade Factors of Peanuts
Thomas B. Whitaker and Floyd E. Dowell
Chapter 15: Advances in Peanut Handling, Shelling and Storage from Farmer Stock to Processing
John S. Smith, Jr., Paul D. Blankenship, and Freddie P. McIntosh
Chapter 16: Advances in Peanut Flavor Quality
Timothy H. Sanders, Harold E. Pattee, John R. Vercellotti, and Karen L. Bett
Chapter 17: An Overview of World Peanut Markets
Dale H. Carley and Stanley M. Fletcher
*APRES Copyright Statement:
Advances in Peanut Science and all content on this website content is copyright of APRES – © 2015. All rights reserved.
Any redistribution or reproduction of part or all of the contents in any form is prohibited other than the following:
you may print or download for your personal and non-commercial use only

you may copy the content to individual third parties for their personal use, but must acknowledge the book and website as the source of the material
You may not, except with our express written permission, distribute or commercially exploit the content. Nor may you transmit it or store it in any other website or other form of electronic retrieval system.