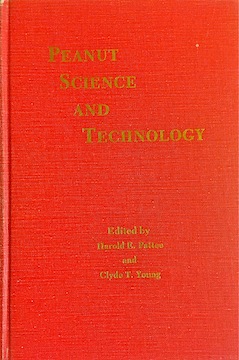 Editors: Harold E. Pattee and Clyde T. Young
Published in 1982
Library of Congress Card Number: 82-072144
# of Pages: 825
Price: Out of Print – Download by Chapter
Peanut Science and Technology is a comprehensive text covering the peanut industry from production to utilization. It builds on the original APRES publication Peanuts-Culture and Uses (1973). Available for download only.
View the Table of Contents / Download by Chapter
APRES Copyright Statement:
Peanut Science and Technology, this website and its content are copyright of APRES – © 2015. All rights reserved.
Any redistribution or reproduction of part or all of the contents in any form is prohibited other than the following:
you may print or download for your personal and non-commercial use only

you may copy the content to individual third parties for their personal use, but must acknowledge the website as the source of the material
You may not, except with our express written permission, distribute or commercially exploit the content. Nor may you transmit it or store it in any other website or other form of electronic retrieval system.